Six Rheticus success stories in the Copernicus4Regions report
Six Rheticus® case histories have been selected and included in the publication "The Ever Growing Uses of Copernicus Across Europe's Regions" illustrating the use of Copernicus data.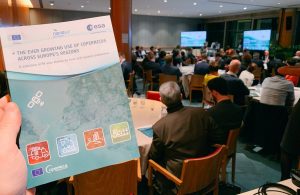 The paper highlights a selection of 99 user stories by local and regional authorities improving daily life.
The paper publication was launched at the European Parliament in Bruxelles and promoted by the European Commission, the European Space Agency and NEREUS in the frame of the Copernicus4Regions initiative.
Twenty years since its conception, Copernicus is the largest provider of Earth observation data in the world. The various services offered through Copernicus help address some of today's toughest environmental challenges such as food security, rising sea levels, natural disasters, urbanisation, diminishing polar ice, and the overarching issue of climate change.
With seven Copernicus Sentinel missions in orbit delivering an almost unimaginable amount of freely-available data about our planet, the potential of tapping into this incredible resource to better the lives of citizens is almost limitless. This new publication that collects 99 stories from European public authorities highlights how we are all benefiting from Copernicus.
Download here the publication Copernicus4Regions 2018 in PDF and read our six success stories:
"Actionable information on burnt areas" – Burnt area monitoring in Apulia, Italy, with Alta Murgia National Park (Pag.110);
"Monitoring coastal waters in near real-time" – Monitoring Eutrophication risk in Albania and Greek region of Epirus and Western Macedonia (Pag.132)
"Monitoring landslide risk in urban areas" – Ground displacement monitoring in Niscemi, Italy, with the Municipality of Niscemi (Pag.224);
"A village stricken by terrain movements" – Ground displacement monitoring in Lockwiller, with the Municipality of Lockwiller, France; (Pag.240);
"Copernicus supports precision farming for an Apulian vineyard" – Precision Farming and high quality wine production in Apulia, Italy, with the wine producer Tormaresca and EUGENIUS project (Pag. 66);
"Monitoring the health of water and sewerage networks" – Monitoring of ground displacement over the sewerage networks in Milan, Italy, with MM Spa (Pag.246)
Explore this website for further information and to try the free DEMO of our Rheticus® services.