Rheticus wins the Wichmann Innovations Award 2018
Rheticus®, Planetek Italia's cloud-based satellite monitoring platform, was awarded as the best software at the Wichmann Innovations Award 2018.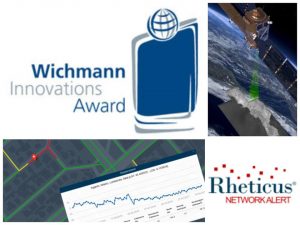 The only Italian to compete in the "software" section, the Rheticus® platform has been selected for its continuous satellite monitoring service of landslides, subsidence and stability of the infrastructures, with millimeter precision. To its subscribers and decision-makers Rheticus® offers dynamic and immediate information, simplifying the complex analysis of satellite data now accessible even to non-expert users.
The Wichmann Innovations Award is the initiative created by Wichmann Publishers, a well-known publisher of professional media in the field of geomatics, which rewards the most innovative hardware and software products in Europe.
After a selection made by a qualified jury of experts, the products is submitted to public vote, through an online voting procedure.
The award ceremony was held during the INTERGEO 2018, the most important international fair in the geospatial sector, to which Planetek Italia was present with an exhibition space jointly with its partners Hexagon GeoSpatial and Geosystems GmbH.
Take a look at the pictures of the ceremony and the Intergeo event
Explore this website for further information and to try the free DEMO of Rheticus® Displacement & Rheticus® Network Alert.