Rheticus wildfires wins hexagon geospatial's m.appathon 3.0 contest
Rheticus® Wildfires is the winning Smart M.App of the Hexagon Geospatial M.Appathon 3.0.
The award was assigned during a special four-day M.Appathon event in Lódź, Poland for Hexagon Geospatial partners. The focus of the M.Appathon was on the Smart M.App platform, M.App Studio. Participants had the opportunity to get hands-on experience working in M.App Studio, and create their very own Smart M.App. During the M.Appathon, Smart M.App subject matter experts (SME's) were available to answer questions and help guide the participants.
Developed using Hexagon Geospatial Smart M.App technologies and based on Copernicus Sentinel-2 data, Rheticus® Wildfires can be used for burnt area detection, fire severity classification, vegetation regrowth monitoring, as well as detection of potentially illegal infrastructures built within historical burnt areas.
The service provides key information retrieved from satellite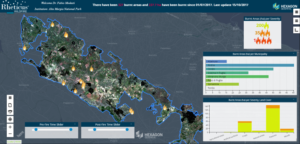 imagery and other open data sources, and generates thematic maps, dynamic geo-analytics and reports, weekly updated. It simplifies big data, streaming large information from various open data sources into an interactive and comprehensive dashboard to achieve insightful and purpose-built content from many different perspectives. Users inquire into burnt areas evolution over time, reaching a fascinating full picture of the state of environmental resources in the blink of an eye.
In July 2017, the Alta Murgia National Park activated Rheticus® Wildfires in order to better monitor burnt areas over another significant fire season across Italy. The service provided the Alta Murgia National Park managers with needed information to develop and support its management strategies and recovery planning, fulfil its reporting duties and overcome the lack of actionable information. Moreover, it helped to prioritise response teams.
How it works: https://youtu.be/IOMGKihf5B0
For further information contact us at Tel. +39.0809644200 or by mail at: sales @ planetek.it
Read the news here http://blog.hexagongeospatial.com/operation-m-appathon-3-0/