Rheticus open the borders event further
When we think about internationalization, we think of innovation, change, and a willingness to take on new challenges. We started this process a long time ago, and we are proud to say that Rheticus is known worldwide.
In the last two years, we have been working to open our borders even further by establishing partnerships in various countries, from Australia to Europe and America. This has allowed us to expand our business and work with markets where we have revolutionized our strategies and discovered new approaches and ideas.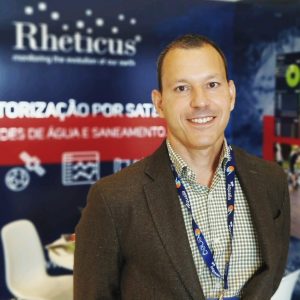 Amongst other internationalization activities, we have included to our Rheticus team, João Pedro Fernandes, Business Advisor based in Lisbon, Portugal. He, more than anyone, is a child of the digital revolution that is taking place. He represents our company on the Iberian Peninsula, attending conferences and events and presenting our services to many companies, including utilities and engineering companies, to public administrations. Thanks to his Spanish, Portuguese, and English knowledge, he is establishing excellent relations in Latin America, where we have had the opportunity to activate Rheticus in some of the most important cities in Brazil and Chile.
In November, João and the colleague Giuseppe Forenza took part in an event organized in Portugal by APDA (Associação Portuguesa de Distribuição e Drenagem de Águas), where we had the opportunity to present Rheticus Network Alert to Portuguese utilities, with great success.
You can contact João Pedro Fernandes directly at his email address j.fernandes@planetek.it and if you are in the vicinity of the beautiful Iberian Peninsula, João will be more than happy to schedule a face-to-face meeting with you.
See where our partners are: https://www.rheticus.eu/authorized-distributors/