Rheticus Network Alert at HxGN Live Conference 2018
The HxGN Live Conference is the global event organized by Hexagon group, that will be held on 12-15 June 2018 in Las Vegas, Nevada.
More than 3500 attendees from over 80 countries. More than 250 sessions, breakout sessions, case studies presented by customers, training sessions and courses on technologies. The HxGN Live Conference brings together the best of experiences and knowledge, thanks to which Hexagon can guarantee global solutions and support at the highest levels, close to the needs of end users.
Planetek Italia, as a Premium Partner of Hexagon Geospatial, will join the event showcasing its latest solutions, realized using the Power Portfolio software and the new Hexagon Smart M.Apps.
Planetek to showcase the new Smart M.Apps based on Rheticus®
Planetek Italia has been invited at the breakout sessions of HxGN Live 2018 to contribute with a presentation titled "Rheticus® and M.App Enterprise: SaaS turned into Actionable Knowledge for Infrastructures, Marine and Wildfires Monitoring" (scheduled on Thursday, Jun 14, 8:00 AM – 8:45 AM).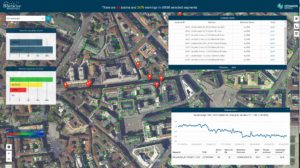 During the HxGN Live 2017 Conference Planetek Italia already launched its Rheticus® Network Alert Smart M.App, a dynamic geo-analytics service tool for monitoring ground instability and displacements in water/sewer pipeline networks.
HxGN Live 2018 will give the opportunity to present several new Smart M.Apps addressing users' needs in various industries and vertical markets: Rheticus® Wildfires, Rheticus® Aquaculture, Rheticus® Bridge Alert, Rheticus® Railways and Rheticus® Infrastructure Alert.
Read more about the new Smart M.Apps powered by Rheticus®
More info:
Watch the Video
Dynamic Geoanalytics to monitor integrity of water pipeline networks