Reflectra named Rheticus Authorized Partner in Australia and New Zealand
Planetek Italia is pleased to announce that Reflectra Ltd. has been appointed as authorized partner for the reselling of Rheticus® Earth monitoring services in Australia and New Zealand.
Founded by Lode Missiaen, also founder and former CEO of Luciad Company, Reflectra will provide consultancy about Rheticus® services to professionals, managers and decision-makers working in public utilities services.
Reflectra will be focused on the Rheticus® Network Alert, the award-winning service which provides geoinformation and geoanalytics specifically designed for public utility services, such as water, sewage, and energy markets.
Rheticus® Network Alert is the winning solution at World Smart City Awards 2019.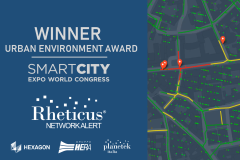 Selected among 450 projects from 54 countries, Rheticus® was awarded in the "Urban Environment" category with the winning use case of the Italian multi-utility company HERA, which integrated Rheticus® Network Alert services to implement predictive analysis in the monitoring of water and sewage networks, improving the effectiveness of maintenance inspections by 40%.
Read more and watch the video about the Hera use case.
Giovanni Sylos Labini, CEO at Planetek Italia declares: "We are excited to cooperate with our valuable partner Reflectra. Rheticus® will now assist professionals and decision makers in a growing number of countries, relying on the sound professional support of our partners".
Lode Missiaen, CEO of Reflectra says: "The innovative Rheticus® satellite monitoring solutions from Planetek have a real relevance for our customers in Australia and New Zealand. The vast rural areas make traditional land-based monitoring difficult and cost-prohibitive. Rheticus® solutions will not only result in a substantial cost saving for our customers with a high ROI, but it will detect early settlements that if left unnoticed could lead to catastrophic consequences. I look forward to seeing the impact Rheticus® solutions will have on the future success of Planetek, Reflectra and our valued customers in Australia and in New Zealand".
About Reflectra
Reflectra Limited is a New Zealand company dedicated to the distribution and support of Rheticus® solutions in Australia and New Zealand. Reflectra provides customers with the services and support they need in their time zone. Our specialized knowledge gives us the ability to offer our customers the most current technical support, training and consultation so they can maximize the benefits that can be achieved with Rheticus® solutions.
For more information, please visit https://reflectra.co.nz
How to join the network of Rheticus® Authorized Resellers
The distribution of Rheticus® services is global. Planetek Italia is building a network of valued Authorized Distributors to resell the services and to assist and serve clients worldwide. Several companies in Europe, Central America, Africa, Oceania and Asia have already joined this innovative business model and started offering Rheticus® services to their markets. To be part of this network write at: info @ rheticus.eu
Video: watch the success story of multi-utility Hera group