Planetek and 10 Mile Solutions partner to deliver Rheticus services in USA and Canada
Planetek Italia is pleased to announce a new partnership with 10 Mile Solutions, to deliver Rheticus® Network Alert services in USA and Canada.
Led by CEO, Matt Wood, former manager of Capella Space, Ursa Space Systems and Google / Terra Bella (Skybox), 10 Mile Solutions will provide consultancy about Rheticus® Network Alert services to USA and Canada based professionals, managers and decision-makers working in public utilities services.
10 Mile Solutions will be focused on Rheticus® Network Alert service in North America (USA and Canada). The service has been specifically designed for public utilities services, such as water, sewage, and energy markets.
Rheticus® Network Alert is the winning solution at World Smart City Awards 2019.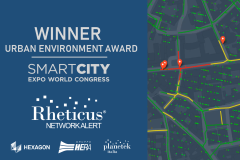 Selected among 450 projects from 54 countries, Rheticus® was awarded in the "Urban Environment" category with the winning use case of the Italian multi-utility company HERA, which integrated Rheticus® Network Alert services to implement predictive analysis in the monitoring of water and sewage networks, improving the effectiveness of maintenance inspections by 40%.
Read more and watch the video about the Hera use case.
Giovanni Sylos Labini, CEO at Planetek Italia declares: "10 Mile Solutions is essential to deliver Rheticus® services to professionals and decision-makers in a very important market. I'm sure our customers in the USA and Canada will be delighted by the professional skills of the 10 Mile team".
"We are pleased to be partnering with Planetek and to offer the Rheticus Network Alert solution to the North American markets," said Matt Wood, CEO of 10 Mile Solutions. "Planetek has a long history of building innovative solutions that address real world problems and deliver exceptional value to their customers.".
About 10 Mile Solutions

10 Mile Solutions delivers operational intelligence solutions to help industries improve efficiency, reduce risk and lower costs. Our offering helps solve specific operational challenges for the infrastructure and insurance industries. We comb the world to bring a curated set of solutions to the United States and Canadian markets, delivering tested products that are proven to successfully improve operations.
For more information, please visit https://10milesolutions.com
How to join the network of Rheticus® Authorized Resellers
The distribution of Rheticus® services is global. Planetek Italia is building a network of valued Authorized Distributors to resell the services and to assist and serve clients worldwide. Several companies in Europe, Central and North America, Africa, Oceania and Asia have already joined this innovative business model and started offering Rheticus® services to their markets. To be part of this network write at: info @ rheticus.eu
Video: watch the success story of multi-utility Hera group