Nortech starts delivering Rheticus Network Alert in Brazil
Planetek Italia is pleased to announce a new partnership with Nortech, to deliver Rheticus® Network Alert services in Brazil.
Nortech is a Brazilian company specialized in the utility and energy sectors. Its mission to bring to the market cutting-edge technologies perfectly matches with Rheticus® idea to improve the customers' process with innovative geospatial solutions.
Nortech will provide consultancy about Rheticus® Network Alert services to Brazil based professionals, managers and decision-makers working in public utilities services.
Rheticus® Network Alert is the winning solution at World Smart City Awards 2019.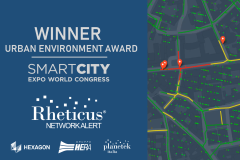 Selected among 450 projects from 54 countries, Rheticus® was awarded in the "Urban Environment" category with the winning use case of the Italian multi-utility company HERA, which integrated Rheticus® Network Alert services to implement predictive analysis in the monitoring of water and sewage networks, improving the effectiveness of maintenance inspections by 40%.
Read more and watch the video about the Hera use case.
Giovanni Sylos Labini, CEO at Planetek Italia declares: "Thanks to its specialization in the utilities sector and its vocation to cutting-edge solutions, I believe that partnering with Nortech will guarantee Rheticus® Network Alert customers in Brazilian market the highest professional skills and outstanding results".
"We are very excited to be working with Planetek Italia and be able to resell Rheticus Network Alert. We believe this technology is a breakthrough regarding how water utilities manage their sewer networks to prevent accidents and improve the effectiveness of their inspections crew" said Adriano Camino Trovato, CEO of Nortech.
About Nortech

Nortech is a Brasilian company with a specific focus in utility sector with a customer portfolio ranging from water and sewage sector, oil&gas and natural gas distribution. Its mission is to bring to the market cutting-edge technologies and innovative solutions to monitor the integrity of energy and utility networks.
For more information, please visit https://www.nortech.com.br/
How to join the network of Rheticus® Authorized Resellers
The distribution of Rheticus® services is global. Planetek Italia is building a network of valued Authorized Distributors to resell the services and to assist and serve clients worldwide. Several companies in Europe, the Americas, Africa, Oceania and Asia have already joined this innovative business model and started offering Rheticus® services to their markets. To be part of this network write at: info @ rheticus.eu
Video: watch the success story of multi-utility Hera group