Wildfires capture from Space
Introduction
Every year significant wildfire activities across Italy and worldwide is registered, especially within national parks and protected areas. Wildfires represent a major threat to environmental resources, with hundreds of thousands of hectares of burnt areas and invaluable loss of woods and biodiversity every year. Over the 2017 summer season, the Alta Murgia National Park (Apulia Region, Southern Italy) faced the lack of actionable information on wildfires for post-fire assessments.
Problem
According to the Italian law on wildfires (Law No. 353/2000), the Forest Police is in charge of in situ detection of burnt scars whilst municipalities are in charge of keeping burnt area database up-to-date. Those activities require great effort in terms of money and time.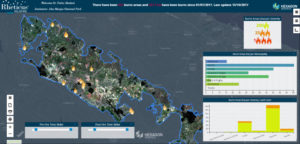 Moreover, it is difficult to perform accurate field surveys over inaccessible areas. As a result, stakeholders such as national parks, protected areas and natural reserves entities quite often face the lack of actionable information for fire management and recovery planning, which are essential aspects also at European level (e.g. Council Regulation (EEC) No. 2158/92 and further modifications).
Solution
Relevant satellite data are now freely available with high temporal and spatial resolutions, thus benefits of using Earth Observation are significant especially for post-fire assessments, as EO by Remote Sensing enables automatic and continual monitoring, regardless of the dimension and morphology of the area of interest.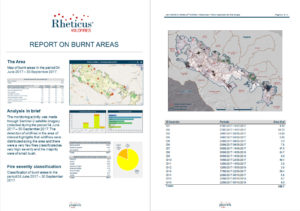 Rheticus® Wildfires is where the Alta Murgia National Park satisfied its needs. In order to better monitor burnt areas after fire events, the Park activated Rheticus® Wildfires service in July 2017.
Rheticus Wildfires is a high-performing and cloud-based geo-information service for post-fire monitoring. It provides the end-user with key information retrieved from Sentinel-2 imagery together with other open data sources through extensively tested models and algorithms.
Every time a new Sentinel-2 data is available over the area of interest, the service automatically downloads the image, performs some processing and generates thematic maps, dynamic geo-analytics and pre-set reports.
Thanks to the high revisit time of Sentinel-2 over the same area (up to 5-6 days) and the high spectral and spatial resolutions of those data, Rheticus Wildfires provided the Alta Murgia National Park with:
Burnt area detection and fire severity classification (4 times/month);
Vegetation regrowth monitoring (1/year);
Detection of potential illegal infrastructure activities within burnt areas (4 times/year).
Moreover, it helps to prioritise response teams. Data are available through the Rheticus® geoportal and pre-set report as well.
All in all, Rheticus Wildfires was where the Alta Murgia National Park got the needed information to develop and support its management strategies and recovery planning, fulfil its reporting duties and management strategies and overcome the lack of actionable information.
Rheticus Wildfires simplifies burnt areas detection and contouring from various open data sources into an interactive and comprehensive dashboard, to achieve insightful and purpose-built contents from many different perspectives. Public Authorities gain immediate and reliable geo-information, including weekly and summary information over wide areas, based on continual Sentinel-2 monitoring, overcoming the difficulties and costs of field measurement campaigns. The service generates reports, thematic maps and geo-analytics based on Sentinel-2 data, meeting local to national content requirements in the field of burnt area detection and illegal building prevention. It also helps prioritising response teams. Furthermore, a better management of precious vegetation resources is well worth the ecological advantages it gives to the environment and citizens.
Customer Statement
"Rheticus Wildfires has helped us to oversee and report fire activity, support our fire management and recovery planning through actionable knowledge on burnt areas."
Chiara Mattia, Alta Murgia National Park
LEARN MORE
Learn more about the service and book your free online DEMO
Video