Pinpointing the failure from Space: the sewerage network of Milan
Introduction
Water can be a destructive force, washing away roadbeds and eroding riverbanks. Sometimes it works silently and invisibly, removing soil beneath parking lots and roads until they cave in, exposing sinkholes that shallow houses and cars.
Subsidence, or when the ground begins to sink, is an indication of a problem. This does not need to be dramatic, to be destructive and costly. Subsidence of only a few centimetres around buried pipelines can cause leaks in the pipes. These leaks can then accelerate the erosion around the problem area, disrupting service and possibly creating larger problems.
Problem
Operators of water and sewage networks have a term for this: piping. As well as accelerating the damage to the actual water infrastructure, this erosion phenomenon can cause instability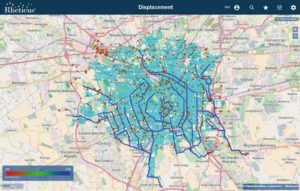 in road structures and surrounding buildings. These operators spend a lot of money maintaining their network and fighting against water leakages or structural problems. Identifying subsidence before it becomes critical is a challenge. Satellite radar monitoring identifies trends in the displacement of the ground, which can predict problems underground. These data, when pushed through Interferometric Synthetic Aperture Radar (InSAR) analysis, can provide changes in the ground level with millimetre accuracy. Analysing radar data requires very high technical skills and often provides results difficult for non-experts to understand and interpret. In addition, it creates an immense volume of data: a single 100 square kilometre area provides over a million points of change. Finding a significant challenge is a challenge.
The public sewerage network of Milan in Italy runs for approximately 1,500 km over 300 square kilometres. MM SpA, the company managing the integrated water and wastewater services of the city of Milan, had been searching for a method to quickly detect ground surface movements caused by structural defect or leaks of its collector that could affect the area above the network and the adjacent areas. The purpose was to prevent damage to surface structures (roads, buildings, services) by detecting the movements underway the effects of which are not yet visible.
Solution
Rheticus® Displacement was where MM SpA got the needed support. Rheticus® Displacement, being a service designed for monitoring ground surface movements over time, is considered the most accurate and affordable survey method to prevent and identify possible failures of the sewage system. MM SpA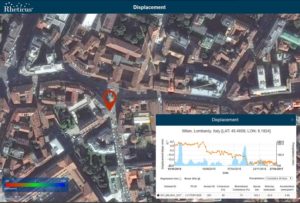 can continuously monitor the stability of the ground displacements that affect the sewer network, measuring millimetre surface deformations based on the six day-revisiting time of the Sentinel-1 data of the European Copernicus Program.
MM SpA is continuously updated about sub vertical movements of the soil, which have a high probability of determining collector failures, and worsening the subsidence. In the first year of monitoring activities, a large historical Sentinel-1 archive data has been processed, producing more than one million of change (called Persistent Scatterers). About 50 PS showed sensitive sub vertical movements affecting 24 roads. MM SpA reported that 80% of field inspections, which were planned using the information provided by Rheticus® Displacement, confirmed ongoing issues on the network.
The successful experience with MM SpA gave a push to further developments. The Rheticus®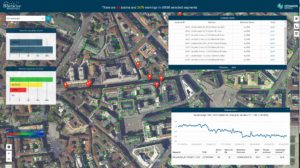 Displacement service has since been integrated with Hexagon Geospatial's Smart M.App technology to add dynamic analysis and new features to water and sewer networks monitoring. The result is Rheticus® Network Alert, a web tool that helps companies managing integrated water and sewage networks to maintain and inspect these networks. It identifies up-to-date risks in the network by using satellite data to identify areas of ground instability that could indicate leaking pipes. Operators can quickly determine the locations of concern and act upon the information. Network Alert provides the level of warning on each pipeline segment, simplifying maintenance activity and inspection priority management.
Customer Statement
"The most accurate and affordable survey method to prevent and detect potential sewerage and water network failures."
Andrea Aliscioni, Direttore Acque Reflue e Depurazione MM SpA
Features
Continuous provision of actionable knowledge through automatic processing of satellite open data.
Thematic maps and dynamic geo-analytics.
Friendly dashboard optimised to provide information through a powerful web interface.
Worldwide coverage.
Designed to meet user's needs.
Subscription-based service.
No device required to be installed.
Direct access to Sentinel-1 data provider.
Availability in Machine-to-Machine mode (M2M) via standard sharing protocols.
Accessibility as cloud service and as web service, following OGC standards.
Data provided in geographic coordinate system.
Supported access from portable devices.
Pre-set exportable reports [on demand].
Integration with geodetic ground-based monitoring systems [on demand].
Exploitation of satellite radar data different from Sentinel-1 [on demand].
Identification of water/sewer network failures through Rheticus® Network Alert based on Rheticus® Displacement [on demand].
Benefits
High frequency monitoring.
Focused informative experience. Helpful to gather comprehensive information from satellite platforms from a single point of access, allowing customers to foster the process of analysis and understanding of ongoing phenomena over wide areas.
Best cost/performance ratio thanks to open data, processing automation, and a cloud-based architecture, regardless the extension of area of interest.
Overwhelming of in situ monitoring issues, efforts and costs.
Accurate, dynamic, reliable and always up-to-date actionable knowledge.
Helpful to anticipate risky situations and harmful events.
Access to data from anywhere, 24/7.
Articles:
Video
Rheticus® Network Alert: How it works.

Hera Group uses Rheticus® to monitor their infrastructure stability

Webinar