Turning radar data into action: slope instabilities in the urban area of Niscemi (Italy)
Introduction
Land instability is a key activity to ensure people's safety, environmental protection and the safeguarding of infrastructures and strategic assets. However, traditional campaigns for the regular monitoring of wide areas require considerable financial resources, time and are often complex to implement.
Problem
Niscemi is an historical village located up above a hilly area in Sicily (Southern Italy), particularly affected by landslides. The local administration of Niscemi is in charge of the forecasting, prevention and risk mitigation activities due to ground instabilities affecting the urban area. The local authority was in need of setting up a cost-effective early warning information service able to support its duty in terms of civil protection and threat mitigation for population and infrastructures. The use of satellite data can overcome the limitations of traditional field monitoring and can provide frequent, accurate and accessible information thanks to the wide availability of spatial information.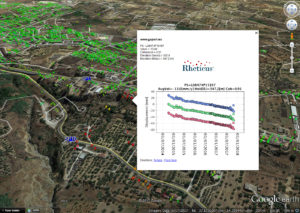 Rheticus® Displacement is where the Municipality of Niscemi found the support it needed. Within the framework agreements signed between Planetek Italia and the Municipality of Niscemi, Rheticus Displacement was activated for monitoring surface instabilities over the Niscemi urban area.
Solution
Rheticus® Displacement is the service for continual monitoring of ground displacements using Sentinel-1 radar data. The service provides monthly monitoring of millimetre displacements of ground surface or infrastructures in areas with active landslide or subsidence phenomena. The availability of historical-data archives allows backwards analysis of ground displacements over time. The mapping activity is made through the monitoring of points on the ground characterised by high stability, called Persistent Scatterers (PS).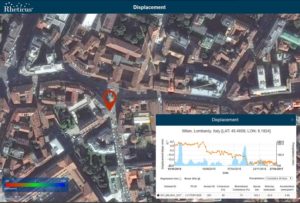 With Rheticus® Displacement it is possible to measure the distance between the satellite and PS on the ground over time, recording the time elapsed between the electromagnetic wave emission and the reception of the backscattered signal. Thanks to six-day revisiting time of the Sentinel-1 constellation, the service provides repeated measurements of the sensor-target distance along the satellite's line-of-sight. The comparison of distances measured over time allows the computation of ground or infrastructure displacements with millimetre precision.
The service provides the Municipality of Niscemi with thematic maps, dynamic geo-analytics and pre-set reports. The satellite monitoring based on Sentinel-1 data also allowed the creation of an early warning service, to alert authorities about the accumulation of instability factors over the area of interest, and thus to plan focused diagnostic activities for threat mitigation and civil protection.
Customer Statement
"This service gives us the opportunity to monitor in real-time the dynamic of ground movements and identify the most critical points."
Concetta Meli, Municipality of Niscemi
LEARN MORE
Learn more about the service and book a free online DEMO.
Rheticus: Monitoring the Evolution of Our Earth.